We don't always feel that we need confirmation, even when we do, deep inside somewhere. It was confirmation enough that I was supposed to marry my fiance when I prayed for a man with specific qualities and he wound up sitting next to me on the train. It may sound silly to you, but not to me...not to us.

So there was no silliness in today's message at church. The verse spoken by the Pastor, the teaching he gave, was the main point in the Bible that brought me out of a life of Homosexuality. How appropriate that it came the week before my wedding. There was no gay bashing, no horrible accusations...and even a testimony that the church is failing in the way they treat homosexuals. I agree.

It's all in the approach. I know. I've seen and heard every approach, first hand.

Today's lesson was just another beautiful confirmation that I've chosen the right path...the path God wants me to be on.

I'm still a sinner and will never be a saint...but I will always be wary and watchful.

Thank you, Pastor Joe, for putting it so eloquently. Thank you, Holy Spirit, for breathing the message into Him. And thank you, Lord, for giving us Your Word.
There are no coincidences.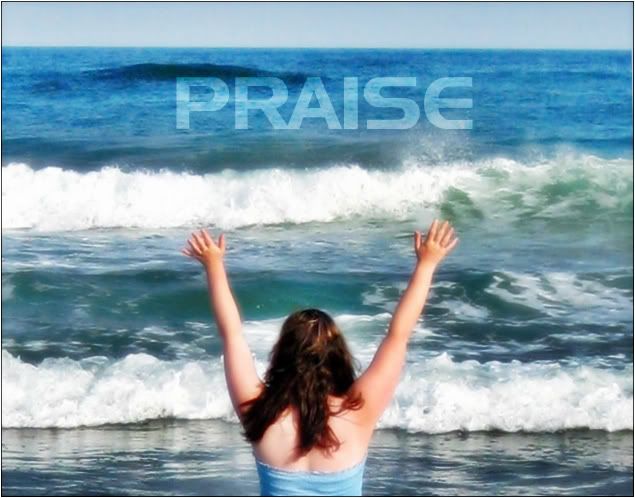 "I keep asking that the God of our Lord Jesus Christ, the glorious Father, may give you the Spirit of wisdom and revelation, so that you may know Him better. I pray also that the eyes of your heart may be enlightened in order that you may know the hope to which He has called you, the riches of His glorious inheritance of the saints, and his incomparably great power for us who believe."
Ephesians 1:17:19
Current Mood:

peaceful
The Fight
Classic Crime

Would you go to war for me, baby
Would you cry for the weak
And die for the peace of men
Oh how can we know
You and I both know
So let's make this boatload of excuses burn and sing

One day it all comes down to this
You can sink or swim
You can handle this
One day it all comes down
One day we all go down

I'll take my heart back
And set the people free
I'll leave the dead to die
And take what's coming with me

Step back for all the world to see
Your life means all the world to me
I'll take your pain and suffering
I'm such a sucker sometimes
Sometimes we don't know
So plug up those bullet holes
Oh you feel so close, don't let go until I say

One day we'll drink to this and say
Remember when we died
We went out in flames

I'll take my heart back
And set the people free
I'll leave the dead to die
And take what's coming with me


Current Mood:

okay


I love that you smile 99% of the time...I love your adorable 'mad' face. I love that you play with your fingers when you're nervous or mulling something over in your mind.

I love your generosity, I love your level-headedness, and I love your ability to listen and respond with such empathy.

I love the way you love me...the way you take care of me, even when I'm being stubborn and feeling 'independent.'

I love the way you make me feel beautiful, when I feel insecure, and when I don't.

I love your faith...I love your openness. I love that you're not afraid to stand next to me in church, and comfort me when I'm crying my eyes out to God. I love that you sing in worship, even though it's not loud...it's sweet and God hears you.

I love that you put up with me and my mood swings and PMS. I love that you put up with me when I don't feel well...and that you take care of me, and let me rest, when I'm sick.

I love that you put up with my family and all of their antics. I love that you love my mother and my grandmother as if they were your own.

I love that you have a sensitivity that is unparalleled to any man I've ever met.

I love that you were able to see past my old life, and look towards our future.

I love that you were willing to wait for me.

I love how you see the world, and know it for what it is.

I love your mind, the way it works, and the thought of figuring you out even more.

I love that you clip your nails in the bathroom because you know I hate the sound.

I love that you cook when I feel like being lazy...I love that you care about my health and well-being.

I love your ketchup addiction.

I love that you tolerate my obsessive movie-watching. Even if it's Mamma Mia, or Beaches. I love that you watch them with me...even Big Bird goes to Japan, when I'm reminiscing about my childhood.

I love your quiet nature.

I love your dry humor.

I love your nervousness when meeting new people.

i love the way you've blossomed since we met.

I love our mutual, mild, OCD.

I love that you didn't give up, even when I shot you down. I love that you brought me that rose...even though I acted angry, I was glad you thought of me.

I love you when you say nothing is wrong, and I have to practically beat it out of you.

I love that you'll someday be the father of our child(ren). You'll make a wonderful dad.

I love that you're going to be my husband.

I could go on and on...bt I'll stop for now...because you're standing in front of me with the most adorable look of curiosity.
I <3 you, Jeff.
Current Mood:

loved


Two reasons.

1.) Although we've remained abstinate, we stare temptation in the face every evening. We should avoid that temptation at all costs.

2.) On the same wavelength, we want to be examples to other Christians. Yes, we may be strong enough, through Christ, to keep our love for each other at bay...but that doesn't mean other's will have that same strength. We do not want to show anyone that it is okay or safe to put themselves in front of temptation.

I have some anxiety about this...about being in this house by myself at night...but I have faith that that Lord will protect me, calm my fears, and strengthen both of us in preparation for our 'big day.'

I'll be watching a lot of Mamma Mia to keep me occupied. Heheee...

Do you know how many times I've watched Mamma Mia? I freakin' LOVE that movie. I have a few icons I've made...but you better believe I'll be making more. Meryl Streep rocks.

Lord...help us through this...it's only a few months...
Jeff is moving out tonight. We've spoken with a couple Pastors, done a lot of reading and praying, and have come to the decision that sleeping under the same roof (let alone in the same bed) is not the best way to begin our lives as man and wife.
Current Mood:

hopeful


Work has been a little crazy, but nothing majorly insane. In short - I did a (ease-of-navigation only) redesign of the company's website...got a bit of push-back, but wound up pulling through. It'll be going live soon, and I'm WAY excited about that! I'll be glad when it's over, because I have a crap-ton of other things to do that aren't work related!

Guest list...argh.

---

Anyway...moving on...

"But none of these things move me; nor do I count my life dear to myself, so that I may finish my race with joy, and the ministry which I received from the Lord Jesus, to testify to the gospel of the grace of God."

Switching to a bit of Bible interpretation...this is part of the verse our Pastor spoke about this past Sunday. It was very moving, and many people came to Christ even though the Pastor didn't ask if anyone was ready to accept Him.

There are a lot of translations of this verse...all talk about a race, or a course...our Pastor spoke about being on course and about staying on track.

"But none of these things move me" is speaking about the trials and tribulations in life. Just because we stay the course of the Lord doesn't mean we won't have trials or suffering...but what it does mean...is when those things present themselves, they will be counted less worthy of our tears because we have the grace of the Lord to fall on. As Christians, we KNOW that the Lord will pick us up, dust us off, and move us forward.

"Nor do I count my life dear to myself..." Some hold their life so precious, that they forget that their life is not about their own fulfillment. Our lives are measured by how we touch others. When we die, we won't have any more 'to-do' lists...no wishes for fancy clothes and cars, no fears, no worries about tomorrow, no dieting issues, no weight issues...if we live our lives in faith, we will be rewarded with everlasting joy and peace. Also, in this life, we will be rewarded with peace of mind, less worrying, less self-hatred....I could go on and on. People will not remember you fondly because you had a fancy car, or a lot of money, or wore the best size 2 Versace. People will remember the times you held their hand during their trials...the times you stayed with them when they needed you...and the times you helped them without them even having to ask.

So many people worry about death...about judgement...but I do not. Yes, the thought of physically dying is scary. No, I don't believe I'm worthy of Heaven...I've done a lot of bad things in my life...but I don't worry because I know the promise of Christ. He died so that we could live. He bore our sin so that we wouldn't have to. If you believe in Christ and His power, you will not be judged in death. You will be found worthy of Heaven because of your faith. Those who do not have faith will be judged by works...I know I wouldn't want that. Sure, overall I feel like I'm a good person...but do I think that all of my sins (let's not forget those just against myself) are outweighed by my 'good deeds?' I can't be sure.

The only thing I am sure of is the love of Christ. He's shown it to me by pulling me from the darkness and shining His light on my life. I had to hit bottom before I looked up and cried out...but I came, willingly, back into the arms of my Father...after so many years. It was the best decision of my life. I bear the tattoo of the shadow of the cross on my arm to forever remind me of the beautiful promise of Christ...and I wear the cross around my neck to show other's I'm not ashamed.

I'm not ashamed of my God. I'm not ashamed of Christ. I'm not ashamed to scream that He is the only TRUE path to happiness. The problem is not always lack of witness, it is lack of hearing. Some hear, but do not comprehend...some look, but do not see.

If you want to know about Christ...if you truly WANT to know Him...ask. Ask me, ask Him...ask anyone who is a true believer. But please, don't remind me of myself just a few short years ago...drinking, drugging, lying, self-hating, SELF-DESTROYING. Not believing because my head told me it didn't make sense. Not believing because other people told me how stupid it was. Not believing because I didn't want to 'conform.'

It had nothing to do with conforming. I didn't WANT to change. Some strange part of me liked destroying myself...perhaps because I felt like I didn't deserve anything good in my life. Guess what? I didn't. We don't. The things we do to ourselves and to others...we don't deserve anything good. But through faith...by reaching up and surrendering control of our lives...by choosing to get back 'on course'...the course God designed for us that leads to happiness and fulfillment...we can find that goodness, through His grace.

My God is a loving God. He is a willing God. He is a SAVING God.

All you have to do...is believe, learn, and surrender. It does not mean being out of control...it puts you back IN control. When you're controlling your own life, you are being controlled by nothingness...by emptiness. When you surrender to God, you are being controlled by the Holy Spirit. It's beautiful and it's refreshing and healing and everything in between.

I pray...that whoever is reading this, at this moment...feels the warmth of Christ in their body...feels the fire of the Holy Spirit entering their soul and the blood of Christ washing them white as snow. I pray they feel his comforting arms wrapped around them...and when they do...I pray they feel His peace and grab onto it. I pray they look up and say 'Father...I love you...and I'll never leave you again."






We haven't had the internet for...sheesh...a couple of weeks now I guess. The Verizon guy came out today and finally fixed it. (yay!)
Current Mood:

jubilant


Now I need to actually go pick them up.

Then get working on the invites...ugh.

Then get working on the DJ...

Then get working on the Photographer...

Then...well, you get the idea.

I'm tired already. LOL
Well...my wedding dress, the veil, the shoes, the headpiece, the 'walk down the isle' music we picked...and everything else...has arrived!
Current Mood:

busy
Making One's Calling and Election Sure
3. His divine power

has given us everything we need for life and godliness through our knowledge of him

who called us

by his own glory and goodness.
4. Through these he has given us his very great and precious promises,

so that through them you may participate in the divine nature

and escape the corruption in the world caused by evil desires.

5. For this very reason, make every effort to add to your faith goodness; and to goodness, knowledge;

6. and to knowledge, self-control;

and to self-control, perseverance;

and to perseverance, godliness;

7. and to godliness, brotherly kindness; and to brotherly kindness, love.

8. For if you possess these qualities in increasing measure, they will keep you from being ineffective and unproductive


in your knowledge of our Lord Jesus Christ.
9.But if anyone does not have them, he is nearsighted and blind,


and has forgotten that he has been cleansed from his past sins.
10. Therefore, my brothers, be all the more eager to make your calling

and election sure. For if you do these things, you will never fall,

11. and you will receive a rich welcome into the eternal kingdom

of our Lord and Savior Jesus Christ.
2 Peter 3-11
Beautifully said...



God's Lifeboat
"For the Son of Man came to seek and to save what was lost." Luke 19:10 (NIV)
Devotion:
I recall the first time my youngest son, Parker, water-skied. He was having a great time while he was being pulled along by the boat. When he fell and let go of the rope, the connection to the boat was broken. Panic gripped his face as he watched the boat leave him behind. Dangling in unknown waters filled Parker with a sense of uncertainty. Anxious thoughts plagued his mind as he wondered whether or not his lifejacket was trustworthy.
It was only when the boat turned around and headed back in his direction that peace took hold again. When we pulled Parker back into the boat, he said with relief, "I didn't think anyone saw me fall. I thought you were gone for good." This is the kind of fright and worry we live with when we are not connected to God. We know that we can only tread water for so long on our own without the security of a boat.
The cross of Christ is our lifeboat that saves us from drowning in a sea of sin and selfishness. Christ's work on the cross has mended the partnership between God and us. However, some people don't realize that life is a partnership with God. Because sin separates us from God, the anxieties and burdens in life weigh heavy on our souls. Until we learn to trust Christ's provision, we'll never find peace. In fact, anyone living apart from God can expect to be plagued by phobias, fears, and anxieties. Until a person is reconciled to God, they are unpredictable and anxious creatures. Like Parker, their greatest need is a lifeboat.
Fearless living is achieved by making the choice to partner with God. Only then will our faith become stronger than all our fears. If you and I want to be rid of worry, we must first stop trusting in the things of this world. Instead, we must learn to put the weight of our burdens and cares on Christ who died for us.
Secondly, we need to refocus. Self-centeredness breeds anxiety. In truth, worry and stress are really symptoms of self-sufficiency and a lack of trust in God. When we take the focus off of ourselves and place it on God, it makes all the difference. Our troubles look small in comparison to our great God.
Finally, we must commit ourselves wholly to God. The Bible says "all have sinned and fall short of the glory of God" (Romans 3:23, NIV). That means that you and I have missed the mark. We can't get to God any other way except through His Son, Jesus. Whoever wants Christ, and believes He is the Son of God, has been given the full benefit of being God's child.
The truly happy person is the one who has placed her trust in Christ alone for salvation. She has discovered that Christ's saving grace is the solution to sin, egotism, waywardness, and fears. You can see a profound difference in the person who chooses Christ as her lifeboat. Anxiety dissolves away and peace rules the heart and mind.
Dear Lord, I am a sinner. I believe You died for me and rose from the grave to purchase a place for me in Heaven. Lord, Jesus, come into my life and take control. Forgive all my sin and save me. I'm placing my trust in You alone. Thank you, Lord, for saving me, forgiving me, and filling me with Your peace. In Jesus' Name, Amen.